Photographs by David Grandorge
Anderson House, Fitzrovia, London
This is an extraordinary house, but one that was the worthy winner of the 2003 Manser Medal and an RIBA regional award by the unanimous verdict of two panels of judges. It is a house that can be understood by visiting it, for its architect, Jamie Fobert, has solved what many other architects and most housebuilders would regard as an intractable problem, that of building a house that is almost completely underground, with almost no external walls and virtually no windows, only skylights.
It does so, not only in an innovative way, but with vigour and architectural rigour. Eschewing traditional or pastiche interiors in favour of solutions that are dramatic, contemporary and well- constructed. In particular the quality of the concrete finishes in the house are remarkable.
If this was an earth-covered structure in the countryside, it would not seem so unusual, but this is a three-storey new house in central London. From the street, only the front door is visible, for even the windows seen on either side and the railed terrace in this picture belong to other properties. Its asymmetrical roof, skylight and roof terrace can only be seen from the back windows of neighbouring properties. Originally built as a bakery on the back land behind 34 and 35 Gosfield Street, the site was last used as a shoe factory, whose derelict two- storey workshop and a small 1930s extension in a tiny courtyard were demolished to create the site for this new house.
Entered by a door from the street between its immediate neighbours, and approached along a narrow covered passage and down a flight of steps to basement level, one enters another world. To get some idea of the problems faced by the architect in shoe-horning a new house into a space bounded on all sides by party walls 7–metres high, the new building required 60 Party Wall Notices to be served and 26 separate Party Wall Agreements to be negotiated between 8 Party Wall surveyors before building work could begin.
The site was bought from a speculative developer who had tried to get planning permission to build six one-bedroom apartments on the site. The client, David Anderson, a South African lawyer, wanted to create a single pied-a-terre(or rather pied dessous) with one master bedroom and bathroom, a guest bedroom and bathroom, a living room, a small kitchen, a WC and a utility room. Apart from the technical problems of construction the client had complex spatial ambitions. He wanted a house that embodied solidity and light, volume and texture. He wanted a house that resolved the enormous difficulties of the site- its long narrow access and its windowless perimeter- with a simple solution rather than with any added complexity. Jamie Fobert gave him what he wanted and he was delighted.
First, however, the planners stipulated that the existing envelope could not be exceeded. They allowed the small open courtyard to be infilled, but required an asymmetrical roof sloping towards an existing neighbour lightwell, while ruling that the parapet to this same lightwell could not be raised. This forced the first critical decision: to descend to basement level from the street front door and corridor, thereby passing below the parapet.
The main living space created in the basement occupies the maximum volume the site allowed, and is unexpectedly large and high, lit at the far end by a large rooflight, like one of Le Corbusier's chapels, and having another rooflight- actually a plate-glass floor- over the kitchen, with a window in the guest bedroom-the only proper window in the house- looking into the living room though a glass wall. The stairs and the master bedroom are toplit by what the architect calls "folded" rooflights, but the master bedroom also has an end wall (or double- width solid door) that opens onto a small roof terrace. Construction was complicated by the fact that the new house could not rely on the existing party walls. Instead most of the load is carried on a central pile cap, with 18 concrete piles 10-metres deep, on which a concrete structure was built to form the interior walls, stairs and first –floor ceilings. The steel frames of the upper floors rest on these concrete platforms. The concrete walls were cast in vertical shuttering panels wrapped in polythene, which gave them their highly polished and reflective finish, with an element of texture created deliberately by wrinkles in the polythene.
This unusual and innovative house is a habitable Rubik's cube, requiring some 400 working drawings. The structural engineers were the Michael Barclay Partnership and the main contractor was Horgan Brothers Ltd. The contract value was £402,000 which may seem expensive, but not for a gem like this. It is not a house to everyone's taste but it clearly demonstrates what talented architects can achieve, elven on the most difficult of sites, which is the object of the Manser Medal.
ARCHITECT
Jamie Fobert Architects
Rochelle School, Arnold Circus
London E2 7ES
Contact: Jamie Fobert
Tel: 020 7553 6560
email: mail@jamiefobertarchitects.com
www.jamiefobertarchitects.com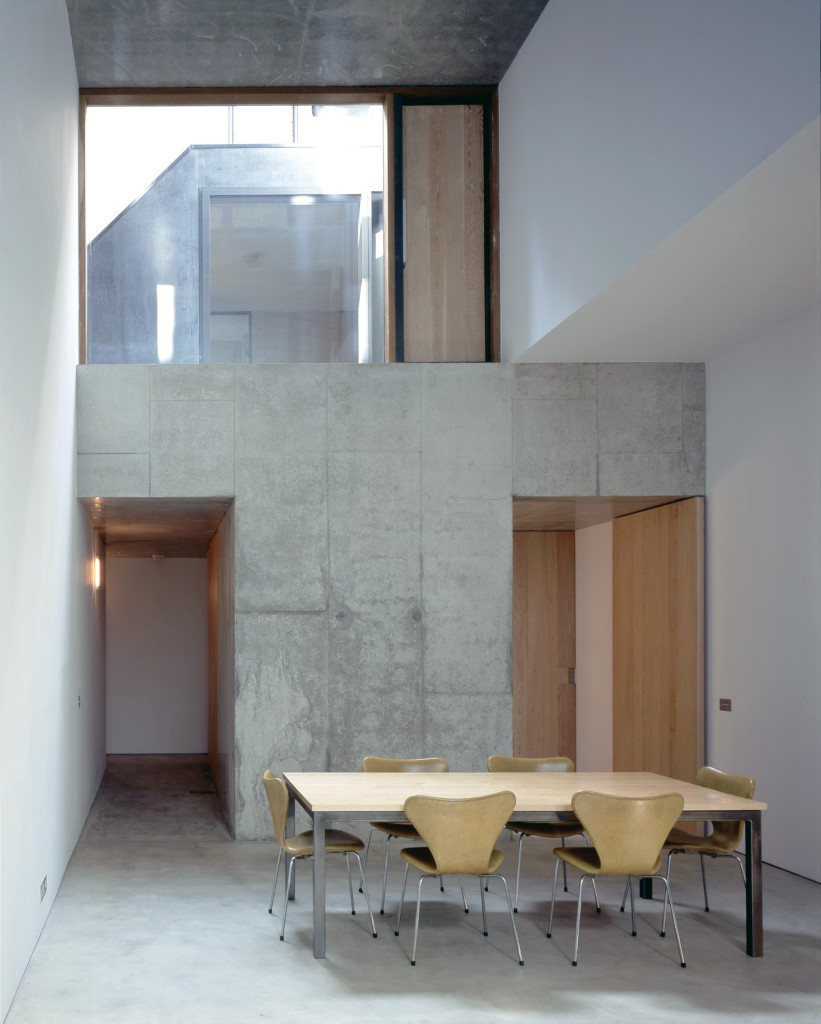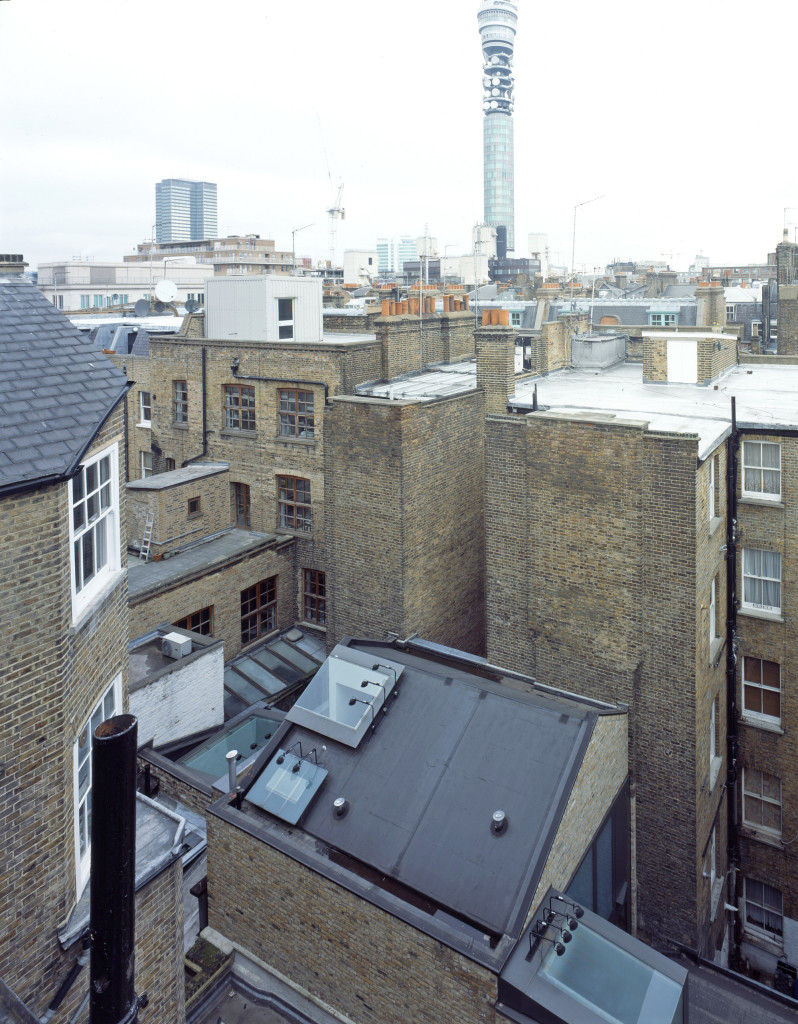 "It is not a house to everyone's taste but it clearly demonstrates what talented architects can achieve, elven on the most difficult of sites, which is the object of the Manser Medal".