Architect Christian Pottgeisser
Photographs by George Dupin
Less than half an hour's drive west from Paris city centre, designed as an extension of a private residence to an 18th-century structure, sought to provide every family member with a private realm. The roughly 5000 m2 plot of old trees called for a project that would leave the spacious ground predominantly untouched.
Local building regulations only allow one single building with a gabled or hipped roof. However, in exceptional cases, flat roofs, as long as they do not exceed 25m2 each (e.g. : garages), can be provided. Thus, projecting above the accessible planted roof five tower-like volumes have been argued and actually implemented. Positioned to frame a specific perspective of the site, each « tower » houses a dressing room and storage space (ground floor), bathroom (1st floor) and a bedroom (2nd floor).
The design foresaw an amorphous plinth storey with curved stone walls heaped up with earth and used as a general living area. It emerges a completely "superfluous" space without any specific functional qualities. As if a toothpaste tube-like device could absorb all programmatic, psychological and urban design requirements. Here, most various and adoptable uses become imaginable and consequently possible – a superfluousness revealing necessary.
House and landscape are intimately interwoven, boundaries between indoors and outdoors are blurred. The south-eastern facade emerges out of a complex topography between the house and its landscape. Carved towards every entrance in the glazing the river-bed-shaped, undulating terrain distorts, blending the construction into nature.
ARCHITECT
Christian Pottgiesser, Architecturespossibles
8 rue du pré aux clercs
75007 paris
Contact: Christian Pottgiesser
Tel: 0033 (0)1 56 24 22 28
email: info@pottgiesser.fr
www.pottgiesser.fr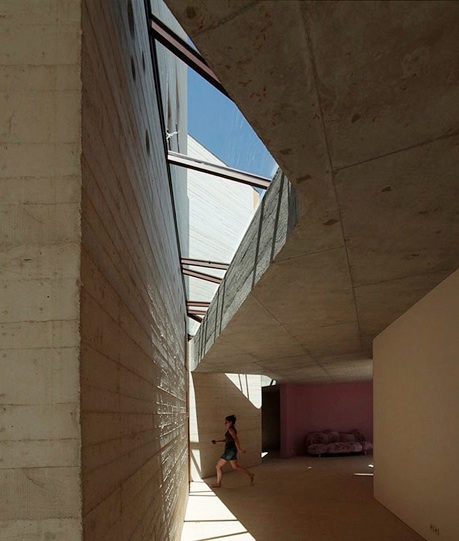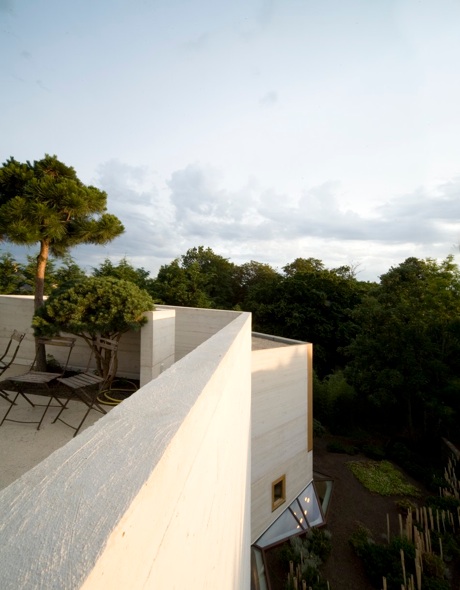 "The architect has buried two metres of the linking building under the sloping site"