Photographs by Richard Bryant
Oxley Woods, Oxley Park, Milton Keynes, Buckinghamshire
The government-backed Design for Manufacture competition brought many innovative home designs into development. One of the first on site and the most striking was the Rogers Stirk Harbour + Partners design developed by Taylor Wimpey at the 145- home Oxley Woods scheme in Milton Keynes. The object of the competition, launched by English Partnerships and the Office of the Deputy Prime Minister in 2005 was to produce high quality homes using modern construction technology at competitive costs. The Deputy Prime Minister John Prescott called it the £60,000 house contest. This design not only delivers all the competition objectives but also addresses environmental concerns. The homes at Oxley Woods are built of timber frame with recycled paper insulation. Their walls are made from environmentally-friendly Trespa cladding panels . Homes are crowned in red chimney-like eco-hats, which top a modular zone with solar absorbent panels that pre-heat ventilated filtered air for circulation around the house via a continuous low –wattage fan. As a result of their innovations the homes at Oxley Woods benefit from a 40% reduction in carbon emissions, and a third of that reduction is directly attributable to the eco-hat.
The homes' build technology also results in faster and more environmentally friendly construction processes. Homes arrive on site in flat pack form and the external envelope can be assembled in just two days. Construction is less wasteful with any waste from the Trespa panels being recycled at the factory. The homes are really, as the competition said, designed for manufacture. The generic house can be adapted for any location and site constraint. Serviced spaces in the home, including bathrooms, kitchens and heating/lighting centres, are standardised across the range of house types. The remainder of the space is effectively a flexible shell, unencumbered by services and structure.
Oxley Woods is design driven housing using classical geometry and modern technology- as was the housing boom of the eighteenth century with Georgian housing which is still as popular as ever. This is our future for housing, a product of our time, using the technology of our time, to suit the demands and lifestyle of our time, as was the ever enduring house of the eighteenth century.

It is entirely appropriate that such a ground-breaking house design should be developed in Milton-Keynes, a new town so closely associated with housing innovation and be awarded in 2008 the prestigious Manser Medal.
ARCHITECT
Rogers Stirk Harbour + Partners
The Leadenhall Building
122 Leadenhall Street
London
EC3V 4AB
Contact: Jennifer Goldsmith
Tel: 020 7385 1235
email: enquiries@rsh-p.com
www.rsh-p.com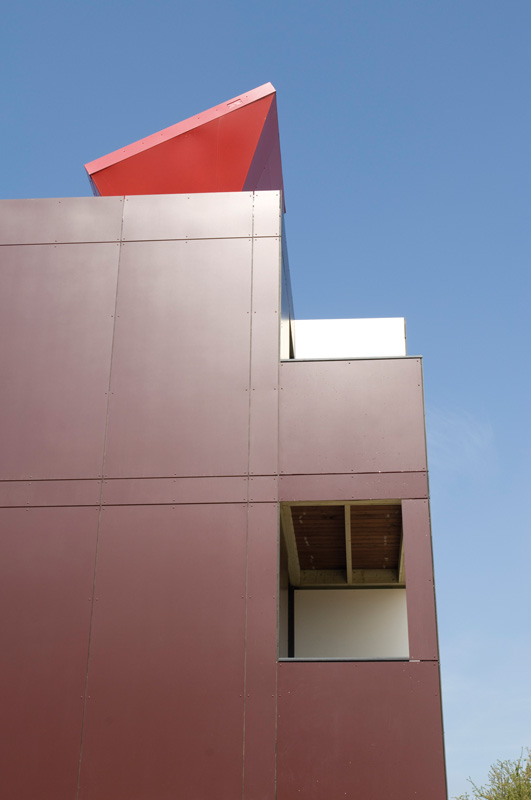 "Here is an infinitely variable kit of parts to make one house, a pair of houses, a terrace or a seven floor block of flats. There is ample scope for customising each house and hugely efficient and economical heating, insulation and mechanical services. Oxley Woods is the answer to the dreams of those who want a 21st Century home."